Taekwondo team Win the Pak-Afghanistan Friendship International Taekwondo Championship
May 24, 2017
Lahore : The Pakistan men's Taekwondo team created history by Win the Pak-Afghanistan Friendship International Taekwondo Championship
The Two-day championship ended with the final rounds of the men's competitions in the martial art taekwondo. Pakistan took first place with Gold Medals and Afghanistan took second place with silver medals.
The first Pak-Afghanistan Friendship International Taekwondo Championship was organized by the Pakistan-International Taekwondo Federation (Pakistan-ITF) in collaboration with the Choi Hong Hi wears international and Hamza Associates.
A team of 06 taekwondo professionals from Afghanistan flew in and gave a taekwondo demonstration at the start of the championship .Pakistani players Mirza farhan, Muhammad bilal, Ahmed , Haris Abdullah, Muhammad mishal and sameer sadaqat and Afghan players Shoaib Rahmani ,Mashullah ,Fareed Ahmed Mehmoodi, Samir Rahmani, Masih Rehmani ,Razi Amir Ahmed and other renowned players were present during the competitions of championship .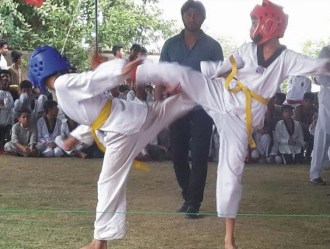 Afghanistan-ITF President Shoaib Rahmani said at the occasion that we are very happy during the visit of Pakistan. We can,t forget the cooperation of Pakistani people players and management of Pakistan International Taekwondo Federation.
He said that it was great honor for me and my team when Pakistan give us an opportunity for great learning experience.
Pakistan-International Taekwondo Federation (Pakistan-ITF) President Rana Sadaqat Ali said the performance by the Pakistani professionals was a great learning experience for the Afghanistan players. He also mentioned that the championship also marked a first in taekwondo technology for Pakistan.
Secretary General Pakistan-International Taekwondo Federation (PITF) Muhammad Akram Khan Faridi said that the country had got talent and could again earn the lost glories in the field of sports. He called for development of sports at the grassroots level while laying emphasis on the need for working on professional lines.
"The government and the both Taekwondo Federations i.e. Pakistan-International Taekwondo Federation (PITF) and Pakistan Taekwondo Federation should be on one page for the promotion of sports in the country," he maintained.
Muhammad Akram Khan Faridi also urged the electronic media particularly the state-run PTV Sports to air all sports activities. Players of Pakistani team told that they had trained around the year for the competition. Chief Guest Rana Shabir Hassan, International Taekwondo champion from Austria and Guest of Honor Nadia Parveen Khan, distributed medals among the winners.
Chairman Pakistan International Taekwondo Federation appreciated the championship organizers Aleem Khan,Nadia Parveen Khan,Sajid Ali,Lubna Azam Tiwana,Dr Shazia Khurram,Riaz Ali Virk,Nadeem iqbal,Rana Ijaz,Faisal Ali Qaisar,Karar Husain,Khalid Khan Commando and Sadaf Bashir.